By the time night falls these days, I'm pretty much pooped. All I want to do is put my feet up on the couch (hopefully for a footrub) and veg out in front of the television for a little bit before I eventually fall asleep. Lately, though, I've been doing a bit of hand sewing on the couch that's been really, really enjoyable.
Vanessa Christenson of
V + Co
has such a great eye for color. I've been working with her fabrics for years now, since her first line for Moda, Simply Color, came out, and I've been a bit fan of the ombre solids she frequently includes in her collections. Her next collection is actually ALL ombre solids, and it's a beautiful rainbow of gorgeousness! I'm working on two different projects with these beauties, but only one of them can see the light of day at the moment, and that's my EPP project.
I made an
EPP starflower pillow
a few years ago, using text prints and scraps, and to this day, it's one of my favorite things I've ever made. So I've decided to make another, using Vanessa's gorgeous new ombre solids and my new favorite text print, Newsprint in Graphite by Brigitte Heitland (of Zen Chic) for Moda, available at
Stash Fabrics
and
Pink Castle Fabrics
. Sidetone: I adore this new line of Brigitte's, Modern Background, it's full of gorgeous text prints that I want bolts and bolts of!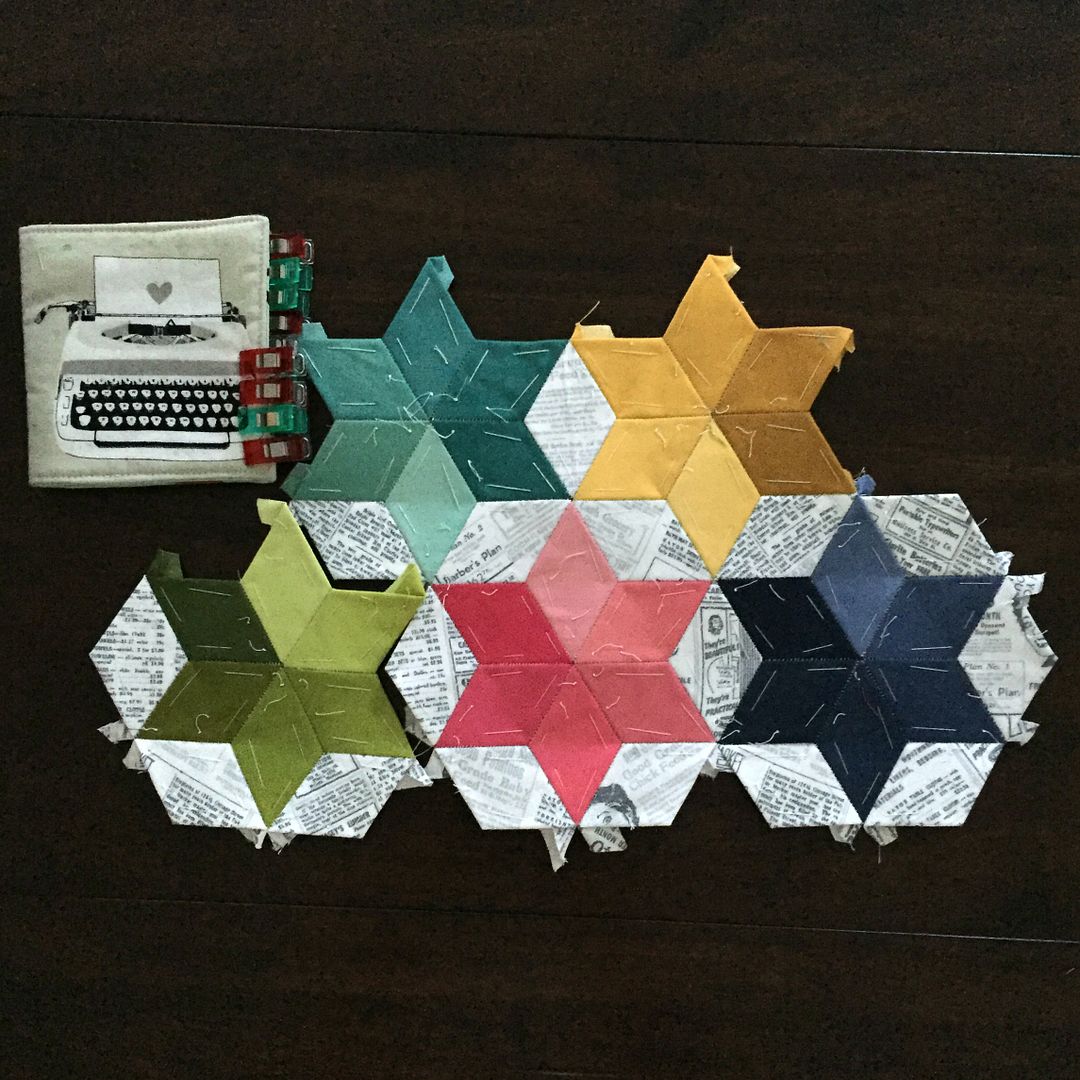 These little starflowers are super easy to sew together, with just one EPP shape required, the
6 point diamond
. So simple, and yet so fun to put together! I'm not entirely positive what this will turn into just yet - maybe another pillow? Maybe a mini? Regardless of the end result, I'm enjoying the process thoroughly right now. Just need to be careful to not fall asleep with a needle in my hand :)