The Epic Sampler Block of the Month Club kicks off October 1st! Won't you join me?
Subscribe now!
39 fantastic blocks for $30!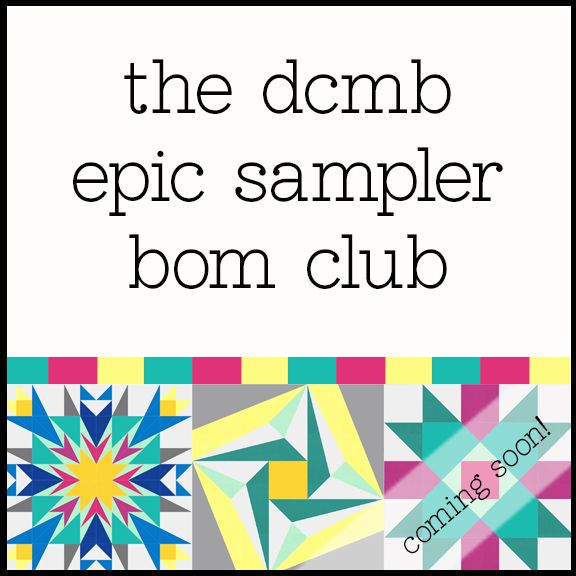 2015 has been a mighty busy year, but I sure have missed working with you all on a block of the month program, so I'm super excited to get a new one underway. The Lucky Stars clubs for 2013 and 2014 still regularly bring me joy when I see you all making your beautiful blocks and quilts!
Never done a block of the month club with me before? Here's a few quick FAQ's to get you familiar:
On the first of every month, you will receive an email with a link to download the month's pattern. All emails will be sent to email address associated with the PayPal account used for payment. Each block pattern will include cutting instructions, step-by-step piecing instructions, and full-color diagrams. For this block of the month series, the three block patterns will be contained in one single download for your convenience. Download the file to your favorite computer and print it as needed for your piecing. For foundation paper pieced blocks, you'll see instructions in the pattern on how many copies of the templates you'll need to print, but not to worry, you don't need any fancy paper - regular plain old printer paper will work just fine!
What will I need to finish the quilt?
No big deal! Sew at your own pace - there's no deadline to finish your quilt, so enjoy the process, and if that means taking a month off, by all means, do so!
What if I've never paper pieced before?
Then you're in for a treat :) You may want to warm up with one of my free paper piecing tutorials, but if you're ready for the challenge, then not to worry, as the patterns are beginner friendly.
Do I pay monthly for the club?
Nope, you just pay once! After you purchase your subscription, you're all done paying for this club.
Can I buy a subscription for my friend/sister/wife/babysitter/neighbor?
Absolutely, what a sweet idea!! Simply email me at elizabeth@dontcallmebetsy.com after your purchase with your name and PayPal email address as well as your gift recipient's name and email address. Their first email from the club will come on October 1st.
I live overseas/internationally/in another time zone - can I still join?
As long as you have an email address that works and a computer that you can check email on that also has a PDF reader like Adobe Acrobat Reader, you absolutely can join! It doesn't matter a bit where you live :)
Okay, I'm in! How do I subscribe?
Have other questions not addressed here? Feel free to email me at elizabeth@dontcallmebetsy.com and I'll be happy to answer them! I hope you consider joining in the fun and quilting along with me, these blocks are a lot of fun to put together!